JOC Press Release - Get Free Publicity from the Media!
Get free media publicity for your products, services, causes or websites.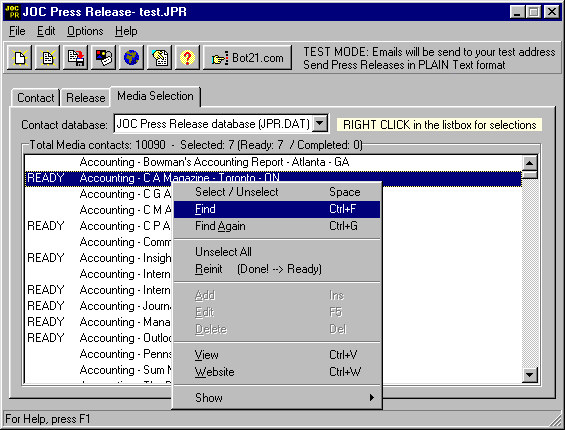 Key Features
Compose and email your press release to a tarjeted list of media contacts. Includes database with thousands of media contacts including magazines, daily and weekly newspapers, radio and TV stations and many more.
Use the same software that professional press releases services without paying its services fees anymore! Unlimited uses!
Quick and Easy use: Simply fill a form with your press release information. Select the media outlets where you want to send. Save the information in a project file for later use. Click a button and the program will instantanely delivers the press releases for you.
JPR can even send your PR in different sessions if some media outlets have not completed. In the next session you only send the PR to the servers not completed in the in previous session.
Easy to use and Compact!